Status Updates
2017-01-27: title added to greenlight with the title of 'You Must be 18 or Older to Enter'
2017-02-28: status changed from 'Waiting' to 'Greenlit'
2017-09-23: status changed from 'Greenlit' to 'Released'


You're alone at home in the 1990s, and you heard about grown-up websites at school. How deep can you dive into the Internet without being caught? Do you even like this stuff?You Must be 18 or Older to Enter is a short free alternative text-based horror game.
What does that all mean? It means:

There are no monsters.

There is no death.

Only you,

90s Internet,

and the fear of being caught.

It is also free.
While still in development, You Must be 18 or Older to Enter is available on Game Jolt

[gamejolt.com]

and Itchio

[seeminglypointless.itch.io]

.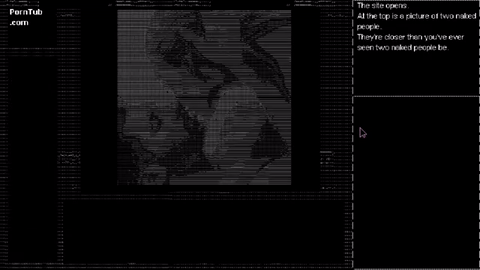 "You Must Be 18 or Older to Enter captures that real-life moment with startling accuracy"
- Paste Magazine
"The game constantly surprises you with warnings of oncoming parents and potential discovery"
- IndieGames
"Relive the first time you looked for porn on that there internet"
- PCGAMER
"I mean, the scenario's pretty terrifying, right?"
- GameCrate
"Oh god, the tension. THE TENSION."
- Rock, Paper, Shotgun