Status Updates
2016-12-20: title added to greenlight with the title of 'Bloody Trapland 2 : Curiosity'
2016-12-28: status changed from 'Waiting' to 'Greenlit'
2017-03-09: status changed from 'Greenlit' to 'Released'

Prepare yourself....
The adventurers of
Bloody Trapland
is back! (
http://store.steampowered.com/app/257750
)
Bloody Trapland is a fast-paced multiplayer platformer where the levels are filled with dozens of dangerous traps and tricky jumps that stand in your way!

Play co-op with your friends or take on the challenges on your own. With support for up to 4 players at once, local and/or online.

This is a challenging, yet simple game that anyone can enjoy, whether you're a casual or a hardcore gamer.
We are staying true to the original; yet improving every aspect of it.
Improved features:
2D platforming at it's best, game feel is key to us

Steam integrated Multiplayer, Local & Online 1-4players

Big variation of secret areas and levels, the rewards will make it worth finding them

Bragworthy achivments, it should feel good when you unlock them

Hand crafted Art & Level design, created with huge passion for the game

Original soundtrack & sound effects by Fredrik Häthén

In game level editor, release your inner creativity using the very same tools as us, all built into the game.
What's new:
New mechanics - new play mechanics as in, wallslide, groundslide and airdash

Loads of levels - Spread across 6 totally unique worlds

Bosslevels - Epic boss fights will be a part of your journey

Hidden Coins - Find secret coins to unlock Temple challenges

Secret world - Beat all Temple challenges to reveal a hidden world

Create your own adventure - Make your own levels and link them together as an adventure

Game Master - Create your own game rules using our in game editor with real code support

Morbidity - New and improved death scenarios. Child friendly version is optional

Dedicated servers - multiplayer just works

Lots and Lots of traps
.. And much much more!
Join us in the creation as we strive to make one of the best 2D Platformers of 2017!
We want to give Bloody Trapland the love it really deserves. This is being made as much for ourselves as for all of you who liked the first one. We would love to hear your opinion about the game, what features do you want to see in the sequel?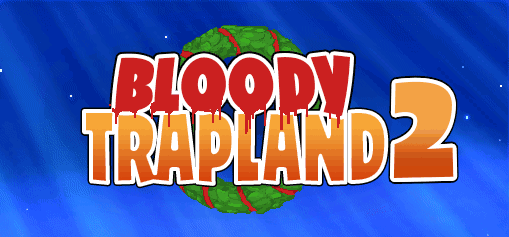 And Season's Greetings to you all!
:)