Status Updates
2016-08-10: title added to greenlight with the title of 'MODSORK'
2016-08-23: status changed from 'Waiting' to 'Greenlit'
2018-05-10: status changed from 'Greenlit' to 'Released'

Control two buddies at the same time in this beat-synced arcade game. Connect them with lasers in order to clothesline endless waves of grumpy geometrical shapes and climb the leaderboards!
It's a challenging game that will twist your brain and test your ambidexterity. But the next try is only two button presses away (no loading times)…just one more try… ;)
Features
multiple game modes, including couch co-op and an accessibility mode.

Beat-Syncing: many game elements are tied to the rhythm of the music.

Adaptive music reacts to gameplay events. Choose a musical style and sound effects will be replaced by matching ones ( see trailer for "Rock" sound set).

Gesture-driven special abilities (see below for examples)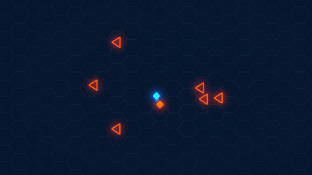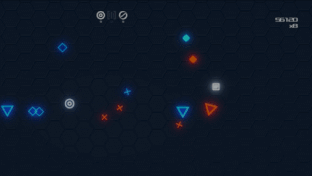 MODSORK has been playable at many game shows such as EGX, Stunfest and AMaze, here's what people said about it:
"...muy addictivo y desafiante (very addictive and challenging)"
-Ketchup

"It's a bit like trying to rub your tummy and tap your head at the same time. With explosions."
-Anonymous
Check out the Greenlight Concepts page
comments
for more player impressions.
Release Plan
The plan is to start an extensive phase of development in Early Access in the fall ( if you guys greenlight this ;) ) and release a final version in the first half of 2017. As a very replayable arcade game, I believe this is well-suited for Early Access, adding new abilities, hazards, game modes etc.
Please note: game requires a controller