The Game
FOX n FORESTS is a 2D 16-Bit style action platformer with adventure and puzzle elements, empowering you to switch seasons on the fly!
Set within a mystic forest and its surroundings, FOX n FORESTS is a stunning fable offering pixel perfect Retrotainment and rewarding challenges!
The game is inspired by the glorious days of 16-Bit and all time classics like Super
Ghouls 'n Ghosts, Wonder Boy
in
Monster World
and
ActRaiser
2
as well as the
Castlevania
and
Zelda
series.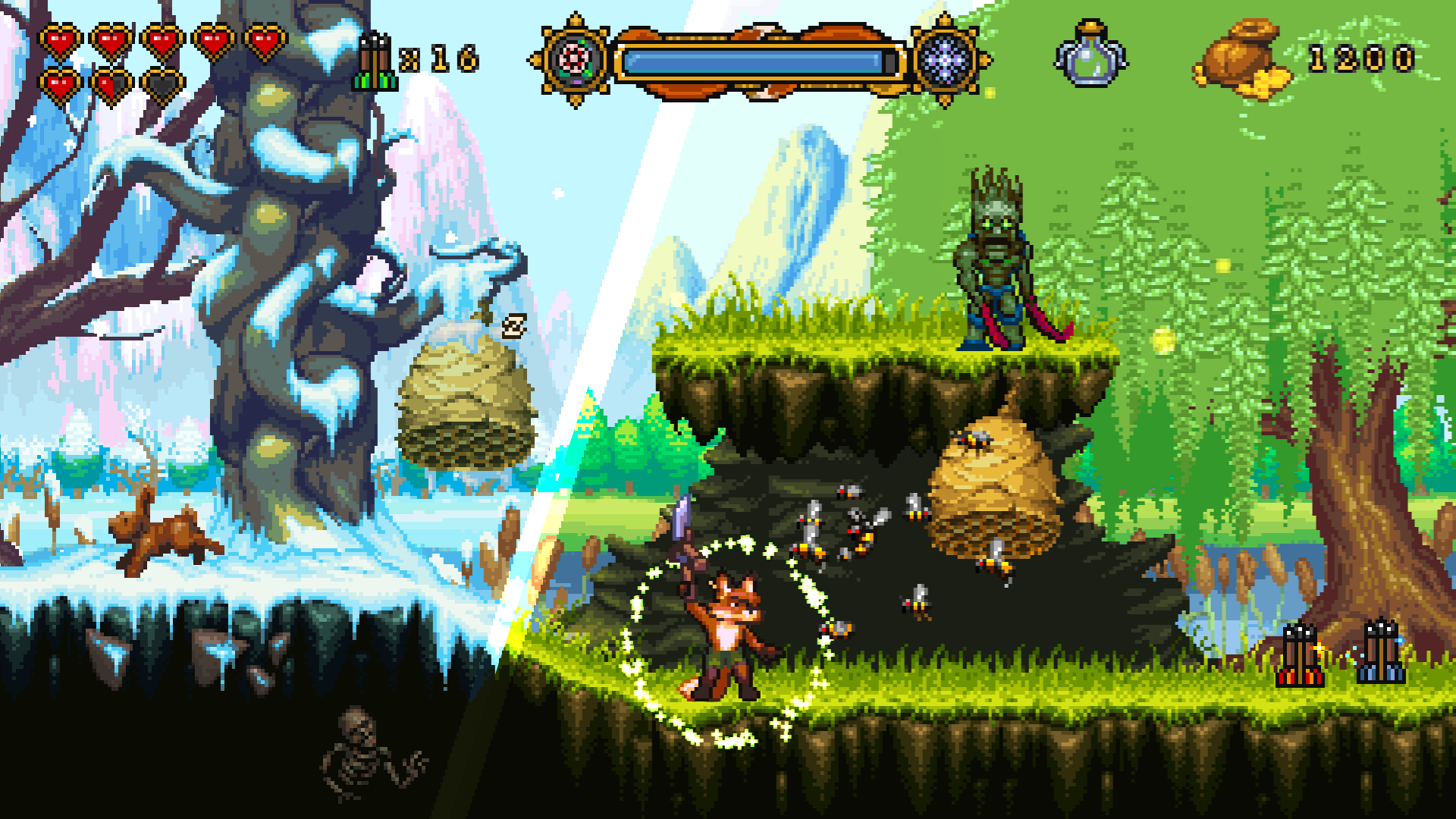 You play as Rick the Fox and your weapon is a magic melee crossbow that can not only be used for ranged and close up combat, but empowers you to seamlessly switch between 2 seasons per level, completely changing the whole environment and resulting in amazing secrets, tricky skill tests and thriving exploration!
Pixel perfect platforming, screen filling bosses, rich bonus levels, powerful potions, bags of loot, stuffed shops, clever backtracking, challenging skill tests, a magic melee crossbow to shoot and slash enemies, upgradeable shots, not 4 but 5 seasons to explore, stunning 16-Bit pixel art, a catchy chip tunes soundtrack and tons of humorous retro charm combined with the luxuries of modern game design will make FOX n FORESTS a worthy revival of games from the Golden Age.
Easy to learn, difficult to master, impossible to not fall in love with!
A passionate, talented and highly experienced team stands behind the development of FOX n FORESTS - it will be available for download on PC and most likely additional platforms in 2017. Please check our stretch goals for details.
Back us and soon the seasons will be yours to command!
The Fable
An evil force is messing around with the seasons in the vast mana woodlands and is building an army of tree like creatures and half-plant half-animal mutants. Its plan is to introduce a mysterious, deadly 5th time of a year.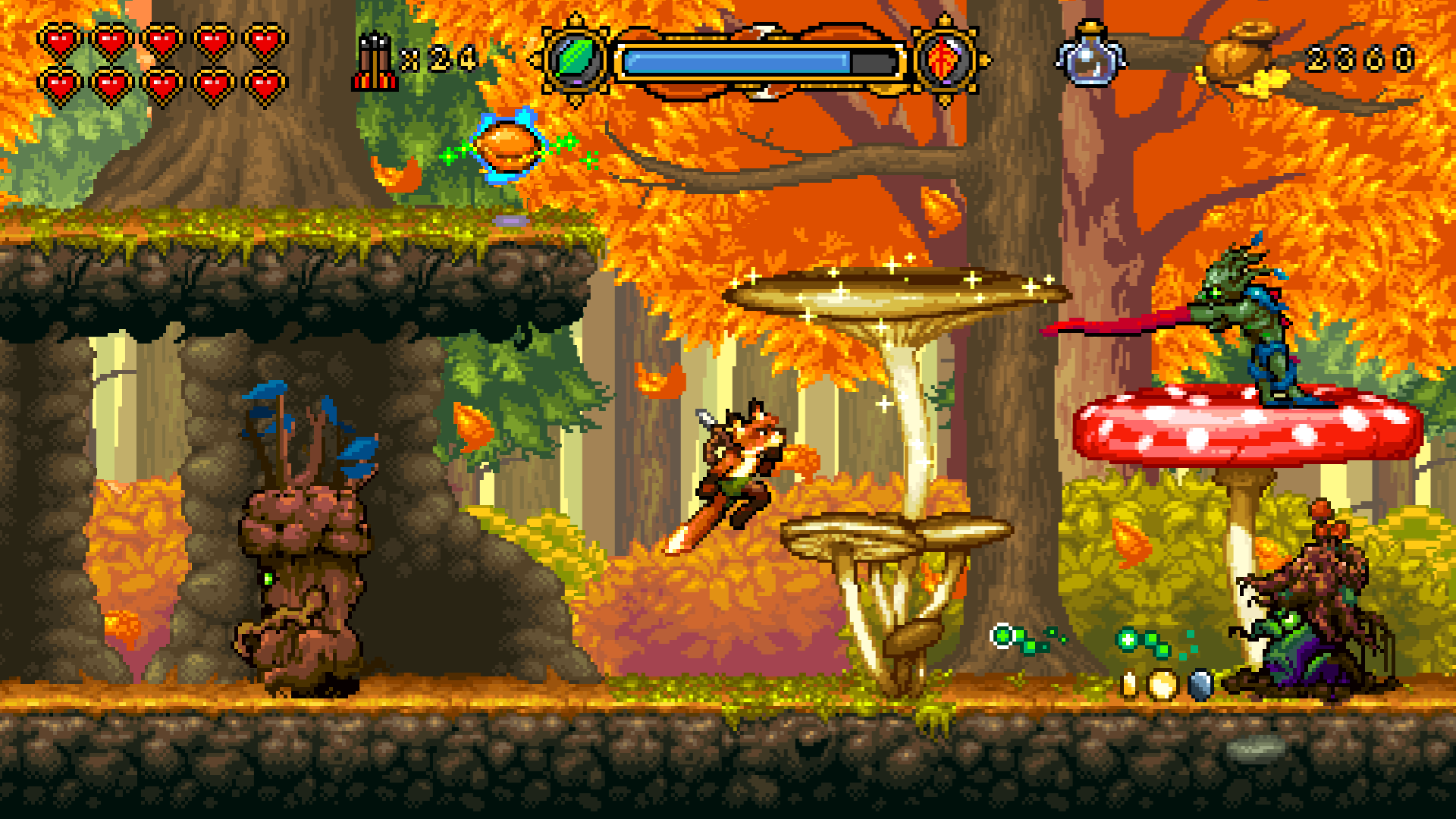 Wandering through the dense forests, looking for winged prey our reckless hero Rick the Fox could not care less, until he meets Patty the Partridge. On behalf of the rather remarkable Guardian Tree she begs him for help, promising gold in reward and a magic melee crossbow as a powerful weapon to defeat evil.
"Ha, I will outfox them! First earn this gold, then snatch the crossbow and finally swallow that annoying bird!"
clever Rick is thinking while following Patty into the deep forests, not knowing what epic adventures lie in front of them, in this thrilling furry tail of change.
Gameplay Pillars
At its core FOX n FORESTS is a 2D action platformer with challenging levels and gut-busting enemies. In addition to that rewarding RPG elements and a clever season switch mechanic create a lasting experience with depth.
SKILL: Slash / Jump / Shoot
RPG: Search / Collect / Upgrade
SEASONS: Switch / Explore / Hurry Up
Season-Sational
In FOX n FORESTS every level is a unique experience!
You can switch between two pre-defined seasons per level, changing the world and its environments in 3 major ways: Weather! Plants! Animals!
Deep waters in Summer can only be crossed when frozen solid in Winter, wind- and watermills in secret mines and on stormy hills can be brought to life, vanishing fog on a graveyard will make nightmares appear and of course all sorts of growing and wilting plants as well as responsive wildlife will affect your action-packed adventure.
On top of that the season can only be switched for a limited amount of time, so sometimes you need to hurry up to cross a lake or get up that giant vine. But do not worry, once your season meter runs out it recharges quickly and automatically. Power is nothing without control!
Retrotainment
YES 16-Bit Style Graphics

YES Parallax Scrolling

YES Chiptunes OST

YES Super Secrets

YES Cheat Codes

YES Mode 7
NO Save Game Battery

NO Cartridge Blowing

NO Slowdowns
Versions
FOX n FORESTS will come out in
September 2017
on
PC, Linux and Mac,
including achievements! On top of that we will try everything to bring the game to consoles as well!
Indiestry Veterans
Bonus Level Entertainment is a team of passionate industry experts, talented newcomers and experienced veterans who worked on hundreds of titles combined so far. We want to bring back the glorious days of 16-Bit and merge our love for retro gaming with the luxury of modern game design.
FOX n FORESTS is a co-development between Bonus Level Entertainment, staff at Independent Arts Software and talented Freelancers from all over the world.
Website
[www.foxnforests.com]
FAQ
Why 16-Bit?
The 16-Bit times is often called out as the golden era of video gaming and the team behind FOX n FORESTS grew up on it. In some way 2D was at its peak back then and games were still seen as something cool and underground. Simply put, we love 16-Bit games and their pixel art. This is also why we chose to stick to an original 16-Bit graphics style.
Aren't retro games too old school?
Never! But honestly, we will combine the 16-Bit look and charm with modern game design and gaming habits. There will be safe games instead of passwords, a challenging but not unfair difficulty level and top notch, precise gameplay along with a cool switch mechanic and rewarding RPG elements.
Is there a map and some sort of hub area?
Yes, indeed! There will be a map and hub area with shops and more, but we do not want to spoil the pixels yet. On the map you can unlock new areas and choose freely where to go next.
How is the mix between combat, platforming, puzzles and RPG?
Long answer short: 30% combat, 30% platforming, 20% puzzle, 20% RPG.
What platforms will FOX n FORESTS be on?
The game will be available for Windows PC, Linux and MAC OSX (Steam or DRM free, you are free to choose the version you want us to send). Depending on our stretch goals on KICKSTARTER we are ready to put the game on PlayStation, Xbox and Nintendo as well.
Will the game be available in my language?
English text and manual is a given, if we reach the according KICKSTARTER stretch goal we will do an EFIGS version.