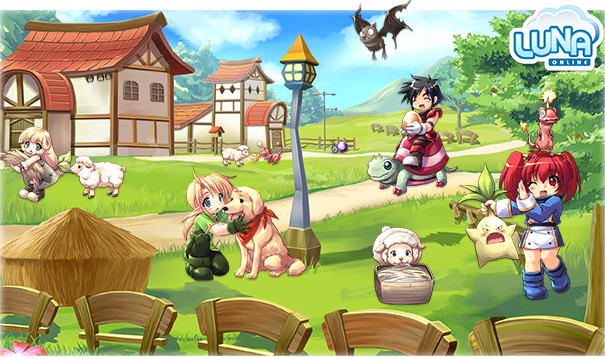 What is Luna Online: Reborn?
Luna Online: Reborn is an anime themed MMORPG set in the cute fantasy world of Blueland. The game is a remake of the popular Luna Online, now published by Suba Games. It provides adjustments to original content that remove any negative experience gamers reported about Luna Plus.
Furthermore, we've added in new Realm vs Realm & Real Time Ranking Systems that are certain to provide a new meaning to gaining dominance over Luna castle.
Features:
- The beautiful and vibrant world of Blueland is yours to explore!
- Experience over 500 skills and 116 classes as well as 50 000 items.
- Start your own family.
- Own your own house & farm.
- Customize your gameplay with over 100 pets.
... and much more!

A redone character progression speed will make sure you actually have a chance to reach the highest level. No race reation limit, pick the race you're happy with right off the bat, no need to wait. If you don't like the skills that you chose, no problem, you can just reset them!
[img] https://subagames.com/images.ashx/Lunasteamguild?1445652730[/img]
Weekly Guild vs Guild battles determine who rules over the great castle! Pick your team and challenge other guilds in tournaments for glory and prizes or join in the Realm vs Realm combat and let other factions know you're the boss!
[img] https://subagames.com/images.ashx/Lunasteamgear?1445588633[/img]
Customize your gear and upgrade it to suit your needs, win epic rare loot if you have the skills to take down bosses in our raid system. Gather crafting materials and make your own items for sale to others. Boost your gear with a gem-upgrade system for even more powerful stats.

Our matchmacking system will make it easier for you to find that special someone to love and cherish. Afterwards follow each other down the aisle as you partake in a wedding ceremony. You can even start your own family!

Own your own home and decorate it as you like. Start your own farm, complete with a barn and livestock. Upgrade it and see what you've accomplished, or go relax by a tranquil lake with the birds chirping as you catch some wild fish to cook.
Also new to our version of Luna is an expanded housing system that lets you create your own Guild Halls!
[img] https://subagames.com/images.ashx/Lunasteamvehicles?1445583424[/img]
Ride around in dozens of vehicles, and mounts. Whether you prefer to ride in style in a fancy car, get around in a UFO or go old school and ride a horse, the choice is yours. There's even a steampunk skateboard!

Over 70 different pets and mounts to choose from, both creature and mechanical. Raise and rank up your pets. Care for them and they will surely stand by you. In a future update there will even be a pet mating system!
Check us out today! http://luna.subagames.com